US
Analysis: Are vaccine mandates for domestic flights our ticket out of the pandemic?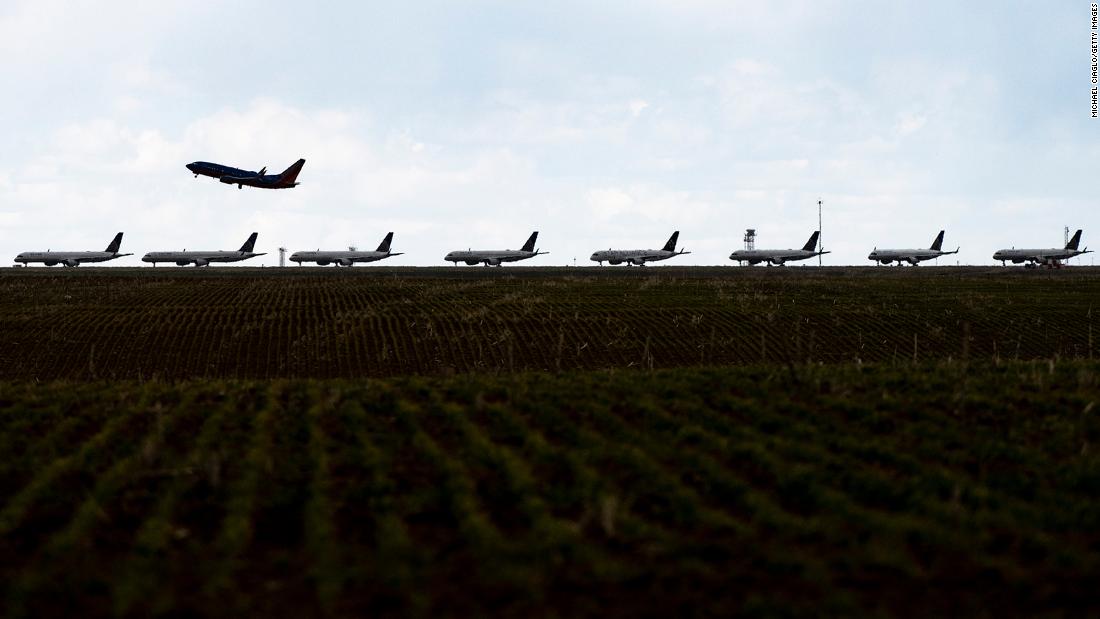 State governments tried lottery-style giveaways to encourage inoculation. Celebrities and influencers touted the shots in public. And the Biden administration has worked to enact vaccine requirements for large employers and certain health care workers.
The US is averaging close to 200,000 new Covid-19 cases each day, according to Sunday data from Johns Hopkins University. That's 47% higher than a week ago and the highest such number since January 19.
And an average of 1,408 Americans died from Covid-19 each day during the week ending Sunday, according to Johns Hopkins. That's a 17% increase from the prior week.
Fauci did not say whether he had made this recommendation to President Joe Biden but added that a vaccination requirement for air travel creates more incentive to get vaccinated in the first place. "You know, there's requirements that you might want to get if you want to get into college, where you want to go to a university or you want to work in certain places."
Even Fauci told CNN's Jim Acosta later Monday, "I don't think people should expect that we're going to have a requirement in domestic flights for people to be vaccinated."
That's good news for the vaccinated, especially those who work in critical services, like those airline employees. But the chance of unvaccinated Americans going back to their daily lives earlier may leave some travelers wishing they had more certainty about the vaccination status of their cabin mates.
Our conversation, conducted over the phone and lightly edited, is below:
CNN: From a public health perspective, does a vaccine mandate for domestic air travel make sense?
AM: It does, and let me explain why. Right now, most of the shutdowns that you will see will be from attrition because people cannot work because they've been exposed and they got Covid-19. And it's even infecting vaccinated people and people who have a booster — basically it's going to take a lot of people out of commission.
And the only way to protect our industries, our work and our economy is to mandate vaccines on airplanes and schools, etc.
CNN: Despite Fauci's comments, Biden has made clear that such a mandate isn't being considered seriously in the White House at this point. How much of an impact would a mandate like this have going into effect sooner rather than later?
AM: So let me say this, we have been making the right decisions, but always very late. And we dwell on making a decision and we keep debating it, knowing the facts and the science are telling us we should do it.
We delayed our booster in the United States. We told people to take off their mask after being vaccinated. I mean, we've done everything totally wrong, and mistakes have been made. We know the only way to protect flying in this country is to mandate vaccines. So why are we waiting to do it? I mean, I just don't get it.
I totally disagree with the White House stance saying, 'Oh, let's wait and see, let's wait and see.' We have enough information right now that the vaccine protects you and vaccines will lower your chance of getting infected.
Why wait if we want to have safe travel and we want to visit and we want to rebuild our economy, why are we sending mixed messages to the public? I mean, that's what really blows my mind as a public health professional.
Basically it's my right as Ali Mokdad, and your right, to get on a plane and feel safe that the person sitting next to me and the three next to each other is vaccinated and he or she is not spreading Covid-19. I just don't get it. I mean, look at smoking. We said no smoking on planes.
CNN: What would you say to people who think such a mandate is an overstep by the federal government?
AM: It's not an overstep. I mean, the government said the vaccines are effective at preventing infection. So why are we saying it's okay to be on a plane without a vaccine? These two don't connect.
CNN: Looking at the tens of millions of people that aren't vaccinated, do you think domestic flight vaccine mandates are a strong tool to reach them?
AM: I would have done it yesterday. Listen, in Seattle where I live, I can't go to a restaurant unless I prove I'm vaccinated or have a negative test. And if you don't want to get vaccinated, if you don't want the government to force you to get vaccinated, get a negative test 24 hours before you get onto the plane. I mean, do it exactly like we are doing for international travel.
Again, we are contradicting ourselves and we are not sending a clear public health message. And that contradiction has been used by people who don't want to get the vaccine, saying 'These guys cannot make up their mind.'"
Source link